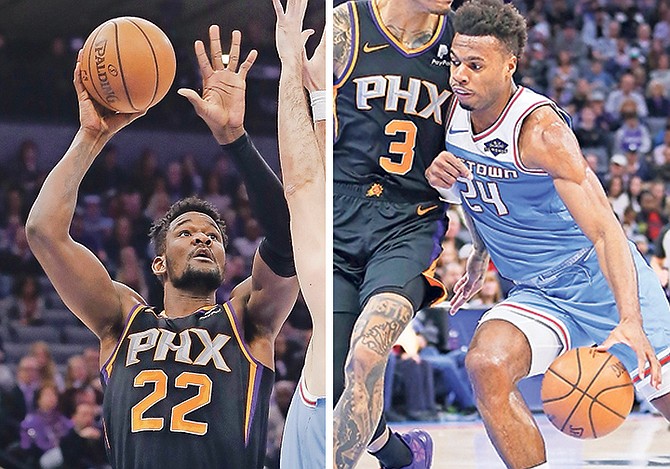 By RENALDO DORSETT
Tribune Sports Reporter
rdorsett@tribunemedia.net
BOTH Bahamian players in the NBA will undergo head coaching changes headed into the 2019-20.
Deandre Ayton's Phoenix Suns relieved Igor Kokoskov of his coaching duties after one year with the team, just over a week after Buddy Hield's Sacramento Kings replaced former coach Dave Joerger with Luke Walton.
The Suns finished the season 19-63, the worst record in the Western Conference.
Ayton was sidelined for the final five games of the season with an ankle injury but still had a rookie season filled with milestones for the struggling franchise.
He averaged 16.3 points and 10.3 rebounds per game in 71 contests. Ayton also shot 58.5 per cent from the field, the highest percentage for any rookie to average a double double.
He set the Suns rookie record for double-doubles with 39 and was the first player since Hall of Famer Kareem Abdul-Jabbar back in 1969 to have 18 points, 10 rebounds and six assists in his NBA debut.
"There's so much I have to catch up on and learn. The only thing I can possible do is keep working hard. Just stay focused," Ayton said in his season exit interview.
"I get mad at us sometimes. There's so much talent. If you look at every guy and break down their background, everybody's a winner. They were that guy on their team. Just to see us lose. It's just crazy because I've seen all these dudes in their best form possible on their way to the league. All of us really setting out on to next season and getting to know each other personally. Getting under each other's skin, but not in a bad way, but to know each other's flaws.
"Just to be positive with one another with a lot of encouragement next season. Just have each other's back way more."
The Kings finished the season 39-43 and No.9 in the Western Conference.
Hield has now made more three-point field goals than any other player in NBA history through their first three seasons in the league with 602.
His season total of 278 three-pointers ranks No.7 all-time for a single season and moved him ahead of Klay Thompson of the Golden State Warriors with 276 in 2016.
In his third season, Hield averaged 20.7 points on 46 per cent from the floor, 43 per cent shooting from three-point range and 88 per cent shooting from the free throw line.
He also averaged 5.1 rebounds and 2.5 assists in just over 32 minutes per game.
Hield also set the Kings' single-season three-point field goals record this season when he surpassed Peja Stojakovic's mark of 240.
He had 324 three-point makes through his first two seasons, but with the Kings new and improved high paced offence, the third year guard has experienced an increase in attempts while shooting the same high percentage as in previous seasons.
During his season of milestones, Hield also made his debut in the MTN Dew Three Point Shootout at NBA All-Star Weekend.