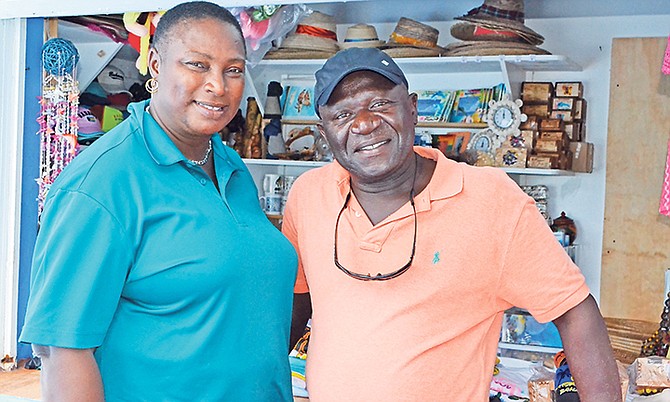 By KHRISNA RUSSELL
Deputy Chief Reporter
krussell@tribunemedia.net
MARYANN Rolle says she'll "definitely" be a blessing to others who worked hard during the failed Fyre Festival, as crowd funding yesterday reached more than $200,000 to assist the Exuma restaurateur recuperate her losses from the ordeal.
"What a blessing," Mrs Rolle said of the money raised on GoFundMe. "I might get my credibility back now," she commented. "The song writer says 'back on my feet again'. You don't tell people all the time but I had struggled in the financial area trying to just dilly-dally with my situation.
"You know I was in trouble and had to dilly-dally my way out and thank God I didn't end up in jail or to the courts."
The account reached $201,377 up to press time. Speaking of her plans for the money, which has greatly surpassed an initial goal of $123,000, Mrs Rolle said: "I cannot enjoy that by myself. I need some folks to celebrate with me.
"I would like to bless these folks in Exuma who has worked hard with the Fyre Festival, some of them, not all of them because if you really try to bless everybody you'll leave with nothing yourself. But I know there are some people who really worked hard in the community of Exuma so that's really who I want to rejoice with me and the only way we can rejoice is to be a part of the blessing."
She attributed the success of the GoFundMe campaign to continuously giving to those in need.
"I am a giver," she told The Tribune. "People see this happening for me (but) I don't just give to Bahamians, I give to the world and when you give you surely receive and I know that God has blessed me to be a blessing because when I give people a 50-dollar bill I say 'Lord I wish I had more to give.'
"When I give that packing boy five dollars I always say I wish I could give them $10. That has always been me. People come and if they see me with a nice bag and they say they like it, I say you can have it.
"I know I am a giver and because I am a giver God has blessed me to be a blessing and that I will do."
But as for right now, Mrs Rolle said she can only plan and hope because she does not yet know how much money she will actually receive.
"I will wait to see how much I am actually going to get because after taxes and GoFundMe taxes and bank taxes I'll see what lands in my hand then I'll be able to better say what I can give to people to really enjoy and celebrate with me."
Mrs Rolle, 55, told her story in a Netflix documentary that chronicled the failed event.
She was interviewed for "FYRE: The Greatest Party That Never Happened" six months ago but said she forgot until the director, Chris Smith, called to reveal his GoFundMe intentions earlier this month.
Mrs Rolle was contracted to provide catering support and lodging for the festival. At the peak of the event, she produced 1,000 meals per day.
In the documentary, she said: "I had ten persons working for me just preparing food all day and all night, 24 hours. I literally had to pay all those people. I went through about $50,000 of my savings that I could've had for a rainy day. They just wiped it out and never looked back. I don't even like to talk about the Fyre Festival anymore. Just take it away and let me start a new beginning because they really, really hurt me."
She later told The Tribune she still owes about $75,000 because of the failed event, though businesses have been accommodating to her.
While there were some people on GoFundMe who left heartfelt comments about her situation, others appealed for help on other campaigns, including one started by the Exuma Foundation to help other Exuma workers affected.
Up to press time that account had raised about $9,000 of its $400,000 goal.
"This campaign has been funded and more," commented Jose, "if you are still feeling generous please search Jose Tejada for my campaign. If you can donate please share with your friends and family, thank you."
Another person, Linda, wrote: "This campaign is well above what was asked. My grandson is very sick and my campaign for him has only gotten $160. No one on this campaign has said thank you or did an update. For all you know it may not be real."