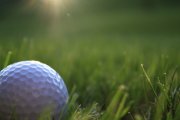 BAHAMAS Golf Federation president Lynford Miller has announced that the race for the 2019 Sands Beer Cup is in full swing.
After six rounds, the current leader is Jenna Bayles with a total of 151 points representing her best four rounds. Bayles also just recently won the Ladies National Amateur Championship and is a member of the national team.
Bayles has a 5-point lead over Nyah Singh in second place at 146. Heathcliff Kane is third with 145 followed by Mark Carter in 4th with 142. Nadario Ferguson is 5th at 140 and Victor Skinner rounds out the 6th spot with 139.
Bayles also leads the Ladies' Division. Nyah Singh is in 2nd with 146 and Kika Borghese is in 3rd with 136.
The Sands Beer Cup was inaugurated two years ago by the BGF and the Bahamian Beverage and Brewery Company to reward golfers who play consistently throughout the year in BGF events which participate in the Sands Beer Cup Series.
At the end of the season, the golfer with the highest net Stapleford points over the minimum number of rounds will win the Prestigious Sands Beer Cup. Trophies and prizes are also awarded for 2nd and 3rd place as well as division winners and runner-up.
The event started with the Grand Bahama Open in April, followed by the National Amateur Championship in May.
The next event is the Sandals Exuma Classic on July 13 followed by the Lyford Cay Classic on August 9.
Heathcliff Kane leads the Regular Division with 145; 2nd is Nadario Ferguson 140 and Zion Taylor 3rd at 137.
In the Mid-Amateur Division, Mark Carter leads with 142 followed by Martin Brent (136) and in third is Lynford Miller at 135.
Ted Adderley is at the top of the Senior Division with a score of 135. Tied for 2nd is Andrew OBrien and Horace Miller with 131.
The Super Senior Division is led by Victor Skinner with 139. Dominique Lefevre and Ray Gibson are 2nd and 3rd with 135 and 128 respectively.
National amateur champion Paul Tsavoussis leads the Gross Division with 134. Last year's Nat Am champion Richard Gibson Jr is 2nd with 131 and Nadario Ferguson is in 3rd with 128.
Golfers still have a chance to move up the leaderboard by participating in upcoming tournaments.