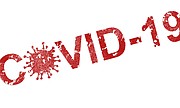 THE Ministry of Health confirmed 17 cases of COVID-19 on Saturday, bringing the nation's toll to 8,127.
Thirteen of those cases are in New Providence, while there were two each in Grand Bahama and Abaco.
Twelve people are in the hospital. While 11 of them are listed as moderately ill, one case is in intensive care.
On Friday, nine cases were recorded.
The country's death toll remains at 175.