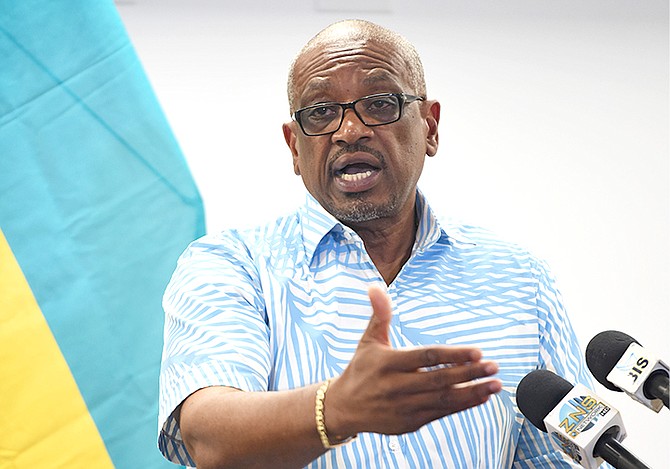 Prime Minister Hubert Minnis.
Stories this photo appears in:

ABACO and Grand Bahama's recovery post Hurricane Dorian will require one of the most ambitious and dynamic public-private partnership initiatives in Bahamian history, according to Prime Minister Dr Hubert Minnis yesterday.

VISITORS to The Bahamas face deportation if they do not complete a short survey each day for at least 14 days if they are in the country, Prime Minister Dr Hubert Minnis said yesterday.

PRIME Minister Dr Hubert Minnis has urged those attending a party on Bimini over the weekend to self-quarantine, insisting the event could be a "super spreader" for COVID-19.

PRIME Minister Dr Hubert Minnis announced that 24-hour weekend curfews and other restrictive measures will take effect for Exuma in light of the recent surge of COVID-19 cases on that island.

PRIME Minister Dr Hubert Minnis announced a slight relaxation in COVID-19 rules yesterday, but warned that Bahamians must get used to cycles that involve tightening and loosening of restrictions because the pandemic will be "with us well into next year".

PRIME Minister Dr Hubert Minnis told Junkanoo members not to hold a rushout that is now at the centre of claims that it contributed to the creation of a COVID-19 cluster.

PRIME Minister Dr Hubert Minnis pleaded with Bahamians to comply with COVID-19 protocols for at least three more weeks as he gave notice that the country's state of emergency will extend until October 31.

During the FNM convention ahead of the 2017 general election season, there was major concern about the leadership.

PRIME Minister Dr Hubert Minnis has said he is not considering a snap election, stressing his government is focused on saving lives amid the COVID-19 pandemic.

PRIOR to the Prime Minister's address last week, as rumours flew around the country about a potential week-long lockdown, Dr Hubert Minnis surprised us all. A shocking but much welcomed course reversal was in order. Following what would have been a 21-day lockdown had the competent authority not had a change of heart, we are now in the process of a phased opening.

PRIME Minister Dr Hubert Minnis has suggested that in order for omni buses in the country to again operate, certain health metrics have to be met in the country's COVID-19 fight.

A SMALL business operator in Grand Bahama said the community is grateful the government listened to their concerns about lockdowns impacting their livelihoods, however he said beauticians and nail technicians on the island are upset they are still barred from resuming work.

"We have to move from 'they should' to "we should'. We have to move from 'they say' to 'we say'." – Prime Minister Hubert Minnis