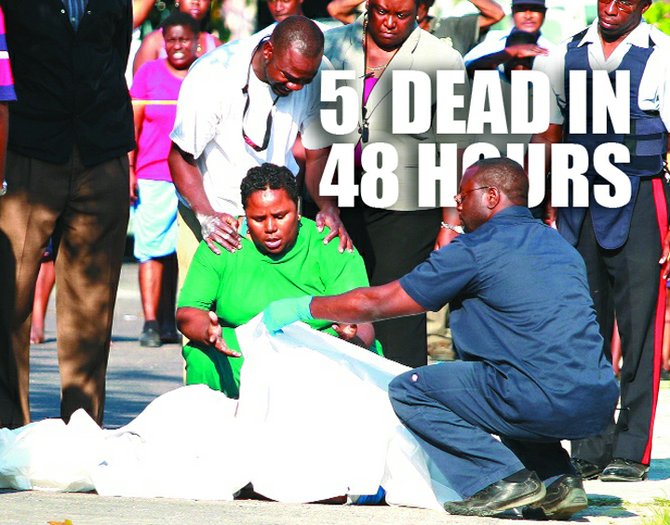 THE police have made an impassioned plea to young men to find a way to resolve their conflicts after five people were murdered in two days – three in drive-by shootings that police think may be related.
Inspector Chrislyn Skipping said Bahamians have a responsibility to do whatever they can to rid the county of the scourge of murder that is taking the lives of young men.
Two fathers, aged 26 and 30, were gunned down within an hour of each other yesterday afternoon, one at his parents' house in Pinewood and the other at the carwash he owned in Chippingham.
A third man had been shot and killed just after midnight.
Inspector Skippings said: "This is so painful, I am appealing to all young men in our Bahamas. You have got to find a way to resolve your conflict, talk to your pastor someone in your community to get the help you need."
Mrs Skippings also appealed to women to use whatever influence they have to help the men in their lives. "We have to stop this scourge." she said.
Wednesday's murders are the third, fourth and fifth to have occurred after Monday's general election. A mother and son were killed on Monday evening.
The Christie administration made crime a major issue in its campaign and the Bahamas' new Deputy Prime Minister vowed a "rapid response" in the wake of the bloodshed.
Philip "Brave" Davis, who was sworn in to office yesterday, said "we are not going to allow" the escalation in violent crime to continue.
"You would have heard the Prime Minister indicate today following my swearing in that he has already identified his Minister of National Security. We are concerned about it. We are not going to allow it to continue."
Mr Davis added that he knows that Prime Minister Perry Christie has already met with the Commissioner of Police, Ellison Greenslade at least three times since he was sworn in on Tuesday "on matters of these natures".
Last night, police were linking all three shootings. All three victims were known to the police.
McKeno John Brown, 26, a father of three young boys, who was married last year, was shot and killed while at his parents' house on Sugar Apple Street in Pinewood shortly after 3pm. According to police, Mr Brown was in the front yard when he was approached by a man in a dark coloured vehicle. Following an argument, the man fired shots at Mr Brown who ran to the back yard where he collapsed and died.
His distraught father John Brown, had just returned home shortly after the murder took place.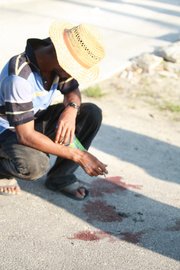 He told The Tribune that his son had stopped by to help him repair his car. Mr Brown said he is devastated at the death of his oldest child and said that he hoped the killers would be brought to justice.
Neighbours also expressed shock that such a horrific tragedy could happen in their neighbourhood.
"I have lived here for 15 years and nothing like this has ever happened. This is the worst thing I have ever seen happen here," said the neighbour who said she knew the victim and his family well.
Several other people said that they hoped the new government's eyes would be opened to just how bad crime is in the country, saying that Nassau is the wild west.
It was while police were briefing members of the press at that scene, that they received reports of a second shooting, this time in the Chippingham area.
David De'Angelo Marshall, 26, was shot at multiple times while at the car wash he owned on Baldwin Avenue, police reported. He died at the scene.
Inspector Skippings said that Mr Marshall was at the scene with several other people when the occupants of a dark coloured vehicle pulled up and opened fire on him. He was also pronounced dead at the scene.
Family and friends were hysterical at the crime scene, with several having to be taken to hospital after collapsing in grief in the streets. Mr Marshall's girlfriend, who gave birth to their child just three weeks ago, was inconsolable and screamed over and over that her baby did not have a daddy.
After police allowed the victim's mother to see her son's body, she screamed to God that she hoped that the "evil people" who did this to her child would be caught.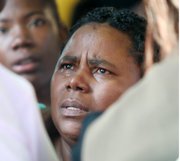 Newly elected MP for Fort Charlotte Dr Andre Rollins was immediately at the scene comforting the family.
Dr Rollins said that he is saddened by all three murders. In the case of Mr Marshall, Dr Rollins said that he had met him several times during his campaign.
"Here was a young man who had come into the community and started his own business. He was providing for himself and his family and had also employed a number of young men in the area. He bonded well with other persons. This is where we are as a country where young men are trying to turn their lives around and do positive things, they are unable to escape people who will do them harm."
He also said that his campaign proposal to put closed circuit cameras in communities may be helpful in situations like these. He said the cameras may not have been able to identify the occupants of the vehicle, but may have helped to locate it.
Police have appealed to the public for any assistance they can give in the investigations.
• There were two more shootings through the night. The first incident reportedly occurred around 10:30pm on Wednesday and resulted in a 48-year-old male being shot to the neck.
Initial reports indicate that the victim was at Miami Street when he was approached by a male known to him and subsequently shot.
The victim was taken to hospital via EMS personnel where he is detained in stable condition.
The second incident reportedly occurred shortly after midnight on Thursday at Fifth Street, Coconut Grove and resulted in a male receiving a gunshot injury to the abdomen.
The victim was taken to hospital and is in critical condition.