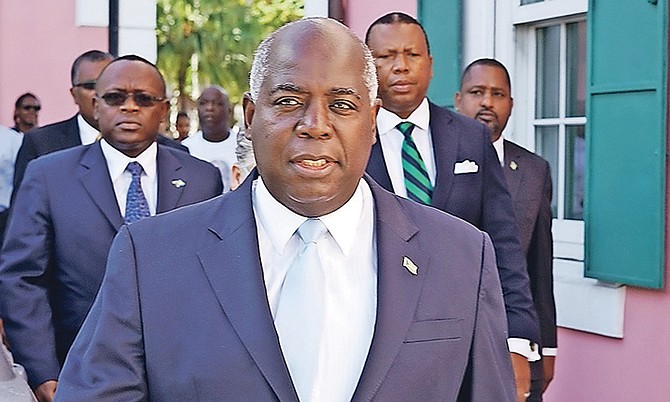 By RICARDO WELLS
Tribune Staff Reporter
rwells@tribunemedia.net
IN the face of Bahamas Power and Light's continued generation instabilities, Opposition Leader Philip 'Brave' Davis on Friday criticised the Minnis administration's decision to "go away from all" the plans left by the Progressive Liberal Party.
Speaking on the issue on the sidelines of the swearing-in ceremony of Stephen Isaacs as the country's newest Chief Justice, Mr Davis insisted the government's decision to gut critical units at BPL and "torch" sustainability plans introduced by the Christie administration, has led to "mass systematic failures."
Residents in several areas of New Providence were plunged into darkness on Wednesday night after an engine at the Clifton Pier power plant malfunctioned, resulting in a load shedding exercise – with further power outage throughout Thursday.
According to BPL there were challenges with the generation plant resulting in an interruption to power supply for customers in Stapleton, portions of Thompson Blvd, portions of Oakes Field, Mackey Street, East Bay Street east of the bridge, Blair Estates, portions of Coral Harbour, Boatswain Hill and Lyford Cay.
At the time, it was estimated that some customers would be without electricity for two hours. However, there were some residents outside of the mentioned areas who complained of power disruptions for more than the stated time frame.
Last night, BPL reported a "system disturbance" at about 7.40pm which led to outages in some areas across New Providence. At about 10pm, BPL said that power was restored to all customers - although some people reported that they were still without power.
Addressing these failures Friday, Mr Davis did not hold back, outright accusing the government of "playing politics with national progress."
"They went in like a bull in a china closet; gutted all of what we had plans to do," he told The Tribune.
"If this government had continued on with our plans, what we see today, this would not occur.
"This is clearly a situation where they went into this without a plan and wanted to do away with all the progress we made.
"They cleared the deck," Mr Davis asserted, referring to BPL's layoff exercises and cutbacks, "that didn't help much."
"I spent the weekend in Cat Island at a resort that was about 40 per cent visitors and there were all sorts of issues with the service. It was Cat island's busiest weekend because of the regatta, but they couldn't keep the power on. For the entire weekend, everyday, for about six hours; outages. In one instance, it was off for 12 hours. It was despicable.
"They can tell you how (the plans we left) did not service what they are attempting to do. What they can't say or will not say is how what we did steadily improved BPL's output," Mr Davis added.
He continued: "What I can tell you is the plans we left in place were designed to cut the cost for electricity for our people, were designed to ensure that there was a reliable service and were designed to ensure that it will be an added value for economic growth."
"That was the plan we left.
"It was the plan we started.
"They did not understand the plan or did not care to do so.
"Instead of taking a look and building off of what we had, they opted to dismantle everything we did," he contended.
In recent weeks, a foreign expert has carried out assessments of BPL's electrical service system for potential instabilities.
In addition to that, the corporation has internally executed several strategies geared toward improving its output and productivity.
Additionally, there have been discussions, both internally and externally, about the immediate need for updated equipment.
Nonetheless, Mr Davis maintained that all the recent acts have been for nothing and implored the government to get serious about its promises to fix BPL.
"They are now standing behind the old equipment, that is nothing new. They're not the first administration who discovered our need for new equipment," he said.
Mr Davis added: "This is known, the point is working towards new equipment in a financially prudent manner all while sustaining as reliable a service as possible."
"What they are doing is telling us one thing, when we can see the problem is getting worse.
"You can't say to us everyday that you are fixing the problem and everyday we can see it getting more and more severe.
"Go and look at the record of the PLP, the bills were starting to come down, the supply was improving; we did that as we implemented those same plans this government sidestepped and walked-over."