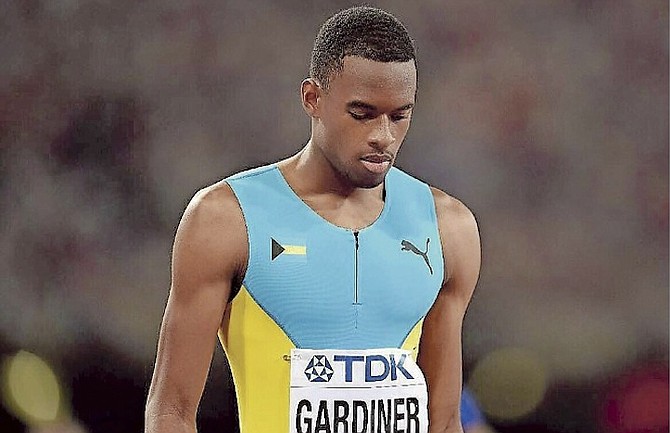 By RENALDO DORSETT
Tribune Sports Reporter
rdorsett@tribunemedia.net
It was a year that displayed the diversity of Bahamian sports across many disciplines and career-defining moments for many of the country's superstars and stars on the rise.
Steven Gardiner
At just 22-years-old Steven Gardiner has already earned a spot in the conversation when the greatest sprinter in Bahamian history is discussed.
In a 2018 season filled with milestones, Gardiner set two national records and became the first Bahamian to crack the 20 and 44 second barriers in the 200m and 400m metres respectively.
What was even more impressive about this feat was that both record setting runs came less than a month apart.
He set the 200m national record of 19.75 secs on April 7 at the Coral Gables Alumni Invitational in Coral Gables, Florida and followed with the 400m record of 43.87 secs on May 4 at the Diamond League series in Doha, Qatar.
He described his record setting 200m run as poetry in motion" as he was able to improve on his start, taking control coming off the final bend and he just accelerated to the finish line.
"I feel very excited about it It's a new national record and now I have the 200/400 double. I just want to say thanks to God and my coach for keeping me healthy. I wanted to get this national record and now I have it. For the first time, I think I executed the perfect race like my coach (Gary Evans) told me to. I did everything that he told me to do and here we are with 19.75." Gardiner told the Tribune, "It feels great. It's something that I've been focusing on for a while. Last year I was focusing on the 400m and this year my focus is on the 200m. This is my first time putting together a race like this, so I now know what to expect when I run it again."
Gardiner also set a meet record at an odd distance on January 21 in Birmingham, Alabama. In the 300m, he clocked 32.51 secs to surpass the previous meet record of 33.45 secs.
Whether he was setting records or not, Gardiner delivered a series of dominant 400m performances on the IAAF's Diamond League circuit.
In addition to his aforementioned first place finished in Doha, Gardiner finished first on May 12 in Shanghai, China in 43.99 secs and was first again at the Chorzow Kamila Skolimowska Memorial in Poland on August 22 in a time of 44.43 secs.
Well on pace to capture the circuit's top honour in the event, Gardiner cramped up at the 2018 Weltklasse Zurich Diamond League Final and took a precautionary measure in pulling up and walking across the finish line.
Gardiner was coming off an injury he sustained in the 200m in Stockholm, Sweden, the third of the 12 Diamond League meets that qualified athletes for the two-day final in Brussels, Belgium.
Gardiner said he wanted to play it safe rather than be sorry so he decided to stop rather than continue running the race.
"I felt so good coming off the two turns," said Gardiner, "Coming home, I felt some cramps and so I decided to stop right there. I didn't want to tear or pull anything."
Deandre Ayton
Ayton experienced a level of unprecedented hype that no other Bahamian athlete in previous generations has ever seen.
Heralded as the top player in the prep basketball grassroots system since he was 13-years-old, that promise came to fruition in 2018 when he was selected No. 1 overall in the NBA Draft.
When the Phoenix Suns selected Ayton at No.1, it represented a historic moment for Ayton, the franchise and the Bahamas.
With Ayton's selection, the Bahamas joined the United States, Canada, Nigeria and Australia as the only countries with multiple No.1 overall NBA draft picks.
Mychal Thompson was previously selected No.1 overall by the Portland Trailblazers in 1977.
"This is a great blessing. I worked hard for this. I had a lot of confidence because I knew I deserved this. There was stuff I went through to get to this point, and I'm just happy to be here and happy to be with the Phoenix Suns," Ayton said, "Having my name called to be the first pick for the Phoenix Suns was mind-blowing. Having all that confidence and leading up to that point when I saw Adam Silver came out, I was just waiting for my name, and when he called it, my mind went blank. I just did the routine everyone else was supposed to do, and I just got up there and enjoyed the moment, and I saw the reaction on my mom's face. It was just priceless."
He was the ninth consecutive college freshman to be selected with the first overall pick.
During his lone season at Arizona, Ayton led the NCAA with 24 double-doubles, a PAC-12 freshman record.
He averaged 20.1 points and 11.6 rebounds per game while shooting 61.6 percent from the field, and was "Karl Malone Power Forward" of the year consensus First Team All-American.
Ayton was one of only four players in the nation to average the aforementioned double double.
He was also Pac-12 Conference Player of the Year, Freshman of the Year, All-Defensive Team selection and Most Outstanding Player of the conference tournament. The first player in conference history to win all awards.
Since making the transition to the NBA Ayton is second among rookies scoring at 16.6 points per game and leads all rookies in rebounding at 10.9 boards per game.
His play has improved dramatically in December with the Suns at full strength.
Over the last five games, the 20-year-old Ayton has averaged 22.8 points and 15.6 rebounds per game, shooting 67 percent from the field and 84 percent from the line.
During that time span, he posted three games with at least 20 points and 15 rebounds. He also reached a new career high in rebounding with 18 boards.
Buddy Hield
Buddy Hield has found a home in Sacramento and is progressing into one of the league's elite shooters.
Hield concluded last season with an active weekend at February's All-Star Weekend in Los Angeles among the top stars of the game.
Hield participated in the Mountain Dew Kickstart Rising Stars Challenge, the Taco Bell Skills Challenge and he was also one of several players who hosted various NBA Cares Clinics during the NBA All-Star weekend. He helped the World Team to a 155-124 win over Team USA at the marquee event for the league's second and first-year players. Hield's numbers were in MVP contention with 29 points, five made threes, three rebounds and three assists, however, Kings teammate Bogdan Bogdanovic would go on to win the award.
Hield, 26, finished last season as the Kings second-leading scorer averaging 13.5 points (.446 field goal percentage, .431 three-point percentage, and 88 three throw percentage), 3.8 rebounds, 1.9 assists, 1.06 steals in 25.3 minutes per game.
That momentum carried over into the offseason.
Hield also participated with the Bahamas' senior men's national team in the third window of FIBA Americas World Cup qualification in Puerto Rico. Hield scored 19 points and the Bahamas escaped with an 83-82 win over the Dominican Republic to close out the third window for the team's only win of the round.
The Kings exercised its team option on Hield moving forward for the 2018-19 season and Hield has emerged as one of the league's leading candidates for the Most Improved Player of the Year Award.
Hield is averaging 20.4 points and 5.2 rebounds per game while shooting 47.9 percent from the field and 44 percent from 3-point range. Among shooting guards, he ranks second in 3-point goals, fourth in 3-point shooting, fifth in rebounding and 10th in scoring.
He is ending the year with his hottest streak of the season averaging 28.2 points and shooting 45.7 percent on three-point attempts over his last six games.
He has scored at least 20 points in 10 of 12 games in December including a career high 37 points in a 132-113 loss to the Oklahoma City Thunder.
Jazz Chisholm
Chisholm, the No.2 prospect in the Arizona Diamondbacks organization, delivered a season of accolades followed an injury-shortened 2017.
In 2018, Chisholm recognized twice by the Diamondbacks as its Minor League Player of the Year and was also named an organizational All-Star.
He spent the season between the Single-A Kane County Cougars and the Single-A Advanced Visalia Rawhide.
On the season between two clubs, he hit .272 (124-456)/.329 OBP/.513 SLG with 23 doubles, six triples, 25 home runs, 70 RBI, 39 walks, 17 stolen bases and 79 runs scored in 112 games
A Midwest League midseason All-Star, Chisholm, 20, led all D-backs farm system players in home runs, and ranked among the leaders in runs (3rd), triples (T-5th), RBI (7th), slugging pct. (8th) and walks (T-9th).
He then went on the Salt River Rafters of the Arizona Fall League.
In 11 games in the AFL, Chisholm hit .442 for Salt River with a .489 OBP, an 1.257 OPS. He had 19 hits including one triple, three doubles, three home runs, collected nine RBIs, seven stolen bases and 12 runs scored.
Following what many pundits considered a breakout season in the minor leagues, Jazz Chisholm signed with one of the fastest rising sports agencies in America when he joined the roster of Jay-Z's Roc Nation Sports.
Lucius Fox Jr
Fox continues his progression through the Tampa Bay Rays organization, achieved two All-Star appearances and reached the Double-A level.
Fox, 21, concluded the season with an Arizona Fall League Championship for the Peoria Javelinas in a 3-2 win over Jazz Chisholm's Salt River.
Fox, the Tampa Bay Rays No.7 prospect, finished 1-3 (double), drew two walks, with one run scored and one stolen base.
In the AFL he hit .326 for Peoria with a .437 OBP, an .821 OPS in 22 games. Fox had 29 hits including three doubles, one home run, collected 11 RBIs, eight stolen bases and 12 runs scored. He was named an AFL All-Star.
Fox advanced to the Double-A level for the first time when the Rays assigned him to the Montgomery Biscuits this season.
In 27 games with the Biscuits, Fox hit .221 with a .284 OBP, four stolen bases, 23 hits, three doubles, one triple, nine RBI and 14 runs scored. He previously spent 91 games with the Charlotte Stone Crabs of Single-A Advanced of the Florida State League.
He hit .282 with a .724 OPS, .371 OBP, 23 stolen bases, 99 hits, 17 doubles, one triple, two home runs, 30 RBI and 54 runs scored. He was named to the Florida State League's Southern Division All-Star Team at the midseason classic.