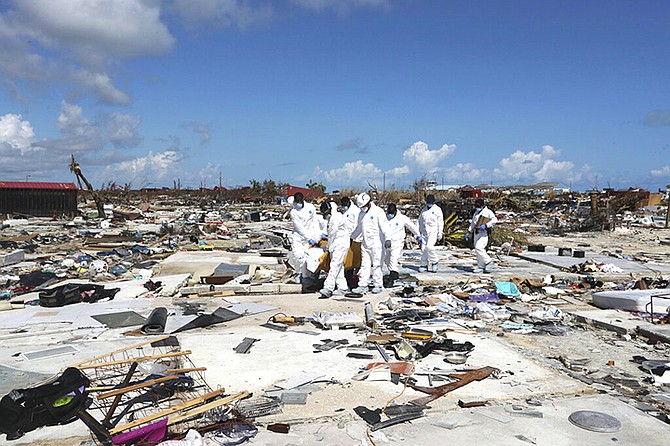 • LIVE UPDATES WILL CONTINUE HERE
.
8.50pm UPDATE: In a statement released tonight, Commissioner of Police Anthony Ferguson said the death toll from Hurricane Dorian now stands at 50: "The Commissioner of the Royal Bahamas Police Force wishes to advise the general public, that as of Monday 9th September, 2019, officers have located and recovered fifty (50) deceased persons from the hurricane affected areas, forty-two (42) from the island of Abaco and eight (8) from Grand Bahama. We anticipate the discovery of more deceased persons, as the process of search and recovery progresses.
"As there are many more persons presume missing, since they have not been seen or heard from since the passage of hurricane Dorian, we are appealing to family members to file missing person's reports with the police. We offer sincere condolence to those families who had love ones died during the hurricane. Please know that every effort is being made by Royal Bahamas Police Force along with our local and international law enforcement partners to bring relief and closure for everyone.May God bless the Commonwealth of the Bahamas."
8.10pm UPDATE: A statement has been released from Baleària Caribbean: "Since 2011, our Company, Baleària Caribbean, has been performing schedule ferry services between Ft. Lauderdale and Grand Bahama Island.  This past August we added ferry service to the Island of Bimini as well.
In relation to Hurricane Dorian, our Company desires to confirms the following:  

"From the moment we first became aware that certain areas of the Bahamas were going to be impacted by Hurricane Dorian, our Company contacted the Government of the Commonwealth of the Bahamas and the various agencies involved in social services for the purpose of providing support and assistance to the residents of the Bahamas among whom are many of our valued employees.
"Baleària Caribbean was able to re-establish its regular ferry services with Bimini and Grand Bahama (Freeport) this past Friday, September 6.  In the past three days since then, our Company has transported over 1,750 passengers, many of whom were Bahamian residents and technical and support personnel.  Our Company has also assisted in the transportation of equipment and material to help those in need in the Island of Grand Bahamas.
"We continue to maintain a policy to transport at no charge those affected citizens of the Bahamas who are in need of such transportation to Florida or between Freeport and Bimini.
"We regret and apologize for the hardship and inconvenience experienced by the 119 passengers who are residents from Grand Bahama Island who could not be transported yesterday, Sunday, September 8.  We boarded these passengers with the understanding that they could travel to the United States without visas, only to later having been advised that in order to travel to Ft. Lauderdale they required prior in-person authorization from the immigration authorities in Nassau.  
"In coordination with U.S. Customs and Boarder Protection (CBP), our Company is informing all Bahamian residents of the required travel documentation necessary for travel to Ft. Lauderdale.  
"Baleària Caribbean and its affiliate companies comprise the Baleària Group which has a long-history of corporate responsibility dedicated to the betterment of the social and economic development of the different markets it serves.   As a Spanish headquartered transport group, we have signed on to the obligations of the United Nations Global Compact to meet the basic fundamental responsibilities to the people and nations we are privileged to serve as part of our long-term growth and corporate culture.
6.45pm UPDATE: U.S. emergency workers on Monday found five bodies in the debris left by Hurricane Dorian in Abaco, and they said they expected to find more victims a week after the devastating storm hit.
Bahamians, meanwhile, were also searching the rubble, salvaging the few heirlooms left intact by the Category 5 storm that, according to the official count over the weekend, has killed at least 44 people.
Members of the Gainesville, Florida, fire department were operating in the remains of The Mudd.
"We've probably hit at most one-tenth of this area, and so far we found five human remains," said Joseph Hillhouse, assistant chief of Gainesville Fire Rescue. "I would say based off of our sample size, we're going to see more."
After the Americans recovered bodies, Bahamas police and medical authorities moved in to conduct autopsies and fly the remains from Abaco to Nassau.
5.15pm UPDATE: Today Prime Minister Dr Hubert Minnis visited the shelters in New Providence – Kendal Isaacs Gymnasium Shelter, Fox Hill Shelter, Pilgrim Baptist Church, Salvation Army Shelter, Calvary Baptist Shelter and the Bain and Grant's Town Salvation.
4pm UPDATE: From today's print edition – BAHAMIANS who survived Hurricane Dorian's deadly wrath in far-flung East Grand Bahama settlements remain locked in survival mode. It's the only way they can stave off mounting grief from the unimaginable, and still uncalculated loss as they wait for relief with little contact from the outside world - full story HERE
3.10pm UPDATE: National Emergency Management Agency officials emphasised Monday that no special arrangements have been made to facilitate the entry of Bahamians affected by Hurricane Dorian into the United States. The announcement came after crew of the Balearia Caribbean Ferry demanded that passengers without a US visa disembark the vessel, prompting the exodus of reportedly 100 or so people - full story HERE
12.20pm UPDATE: From this morning's NEMA press conference:
• NEMA says there are no new arrangements established for entry by Bahamians into the United States or Canada
• Bahamians interested in travelling to the US or Canada should ensure they have all of the usual immigration documents required by those countries for entry.
• NEMA has requested that the Ministry of Tourism and the Ministry of Foreign Affairs investigate a matter regarding a large passenger vessel that was headed to the United States.
• The public is asked to visit facebook.com/nema242 for updates and social media accounts of the Office of the Prime Minister, the Office of the Prime Minister in Grand Bahama and the Ministry of Health. There will also be daily press briefings at 11am.
• There are no mandatory evacuations - the plan is not to move everyone out.
• Temporary housing will be built in Abaco and Grand Bahama.
• Airports will be open for commercial flights at some point and NEMA will advise when that takes place.
• Free evacuations are continuing – approximately 4,800 have been evacuated.
• There are many flights from Grand Bahama and Abaco today – flight schedules are on NEMA's Facebook page. (This was originally reported as three flights and has been corrected by NEMA)
• NEMA has invited the United Nations Office for the coordination of humanitarian affairs to assist with the flow between NEMA and the NGO community.
• NEMA has set up a satellite office at the National Training Agency on Gladstone Road to accommodate NGOs – who will work with the U.N. office for the Coordination of Humanitarian Affairs. This office will open tomorrow (Tuesday) at 8am. NEMA will reach out directly to NGOs via updates and Facebook.
• The best way for some of the nation's foreign partners to assist is to continue to do business with the Bahamas and continue with their plans. 'The Bahamas is still open'.
10.05am UPDATE: Amazon CEO Jeff Bezos has tweeted: "We're sending two Amazon Air planes packed with tens of thousands of Amazon-donated and customer-donated relief items to support those impacted by ‪#HurricaneDorian‬ in the Bahamas. Thanks to all the teams who are making this possible. ‪http://amazon.com/disasterrelief"‬
• From today's print edition:
A SPOKESMAN for the National Emergency Management Agency (NEMA) has defended the organisation against criticisms of its response to Hurricane Dorian, insisting that officials are pleased with their efforts so far – full story HERE
MORE than 3,000 people have been evacuated to New Providence in the wake of Hurricane Dorian. According to National Emergency Management Agency spokesman Carl Smith yesterday, 3,500 people have come to the capital from Abaco and Grand Bahama, but only 860 persons have needed to be housed in approved shelters. There have been a number of other evacuations carried out by civil society – full story HERE
• USAID says more than 47 metric tonnes of its supplies have arrived in the Bahamas to help an estimated 44,000 people.