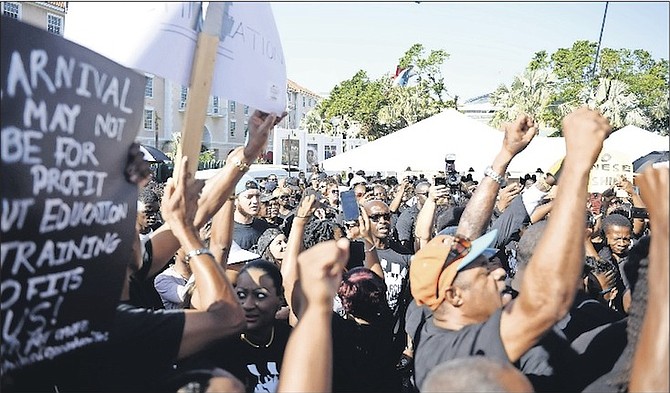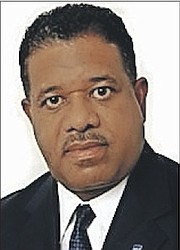 By AVA TURNQUEST
Tribune Chief Reporter
aturnquest@tribunemedia.net
FORMER Progressive Liberal Party (PLP) MP Philip Galanis yesterday warned organisers of We March Bahamas not to "kid themselves" in attempting to align or equate their campaign narrative to the country's achievement of Majority Rule.
Taking a stance on the drama unfolding around the historic holiday, Mr Galanis added that it was senseless to "cloud or confuse" the significance of Majority Rule Day with the group's protest on national issues.
He declared that January 10, 1967, was second only to emancipation from slavery in 1834 and the attainment of Independence in 1973, all of which were sacrosanct.
"I think primacy or preference ought to be given to organisers of Majority Rule Day, because it is like a day unlike any other day in Bahamian history," Mr Galanis told The Tribune.

"And also the We March people, while I fully respect their rights to protest, congregate and march as much as they wish, they can do that any other place or day other than what is being planned."
Mr Galanis was responding to questions on the announcement by We March organisers that they will lead a march in downtown Nassau and occupy areas surrounding Rawson and Parliament Squares despite having their request for a permit rejected by the Cabinet Office.
In a post on Facebook this week, lead organiser Ranard Henfield revealed that the Cabinet Office on Wednesday rejected the group's application to protest in Rawson and Parliaments Squares because the "event conflicts with another event" already booked for that date. The group has titled its march and demonstration, "United People Day".
Mr Henfield, in a press statement yesterday, termed the latest development a petty, borderline desperate attempt to subvert the democratic expression of the people. Calling on supporters to wear all black and bring placards, Mr Henfield said the We March event will begin at 10am at a location to be announced on January 9.
"From there, we will peacefully proceed to Bay Street where we will silently occupy the areas surrounding Rawson and Parliament Squares to advance the people's demands for progress and herald the inevitable tsunami of change that is coming to sweep over this Bahamaland," Mr Henfield said. "The We March movement increasingly strikes fear in the hearts of those who seek to maintain the status quo as they slowly awake to the realisation that they have no weapon strong enough to hold back a 'freedom movement' that has been born of the people and is energised by a commitment to unity rather than division."
He continued: "We will stand up for our rights and this 50th anniversary of Majority Rule will witness a 'United People' march without fear of petty politics and political mischief as we demand better governance by the people we put in power. We ask the Church, the business community, the police, the opposition parties and candidates along with the members of Parliament who place the Bahamian people above party politics to stand with the Bahamian people on January 10 as we exercise our constitutional rights."
The group's first demonstration on November 25 - 'Black Friday' - saw just over 1,000 protesters march from Arawak Cay to Rawson Square singing the Bahamian national anthem and chanting things like "the power of the people is better than the people in power". A large group also occupied Rawson Square for 12 hours as part of the protest, with scores of people remaining until the end.
Given that the Black Friday march was also billed as a silent protest, it is unlikely that demonstrators will be able to occupy the surrounding areas without clashing with ongoing celebrations.
Mr Galanis said he understood that We March organisers strategically chose the holiday in a bid to draw the most attention to their cause, but felt that their efforts would seem more transparent and successful if they rescheduled the event for a different day.
"They should be respectful of that day; that's symptomatic of a level of disrespect that is inexcusable," Mr Galanis said. "It seems to me they are attempting this, on a day that should be cherished, for their own personal selfish political ends. I would say they should not be disrespectful. We should be respectful of each other's right to disagree and the method of protesting things we don't agree with."
After parliamentary elections ended in a tie between the Progressive Liberal Party (PLP) and the ruling United Bahamian Party led by Sir Roland Symonette with 18 seats apiece, one Labour MP, Randol Fawkes, sided with the PLP to enable majority rule for the first time in Bahamian history.
While January 10 ushered in the country's first black premier, later Prime Minister, Sir Lynden Pindling, the political movement began more than two decades prior with the agitation by labourers for equal pay for equal work known as the Burma Road Riots, and incensed by the Women's Suffrage movement and the 16-day General Strike of 1958. It is also inextricably linked to the formation of the first national political party, the PLP, in 1953.
Yesterday, Mr Galanis also hit out at attempts by march organisers to characterise the commemorative events planned by the government as partisan, or a propaganda exercise for the governing PLP.
"It should not be a partisan celebration," Mr Galanis said, "it's a celebration of the country where black and white came together. We all should celebrate, and that has to take precedence over any other march. What they are doing has absolutely nothing to do with Majority Rule, it's senseless to cloud or confuse the issue."
Mr Galanis said: "A lot of people don't have appreciation and significance of this day, it was really the culmination of a long fought battle. Let's not confuse the issue and let's not kid ourselves while they have legitimate concerns in the public domain, as opposed to what they're attempting to achieve."
An official from the Ministry of Youth Sports and Culture advised that a full listing of events planned to commemorate Majority Rule will be released today.