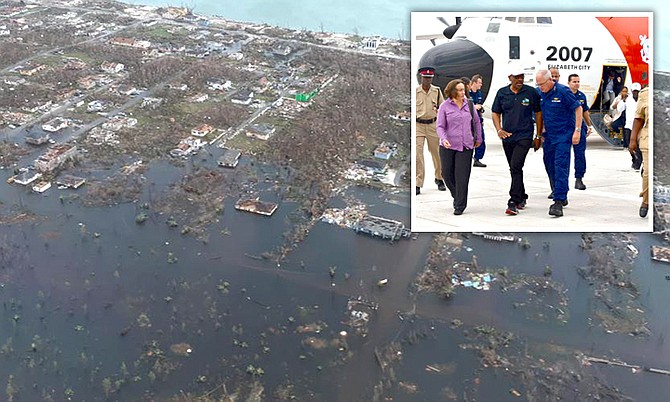 HURRICANE DORIAN UPDATES CAN NOW BE FOUND HERE
11.35pm UPDATE: A new tracking map for Hurricane Dorian – now a Category 2 storm (left) and photos of rescue efforts underway in Grand Bahama (right).
9.25pm UPDATE: From tonight's press conference by Prime Minister Dr Hubert Minnis:
• There are seven confirmed deaths due to Hurricane Dorian: Five people on Abaco and two people who succumbed to their injuries after being transported to New Providence. This is preliminary information and more deaths are expected. The Prime Minister asked for compassion for families that have lost lives – and said do not send or share images of those who perished.
• As soon as there is the all clear for Grand Bahama - officials will do an initial assessment.
• An initial assessment has been made of Abaco after a flyover today. Parts of the island are devastated. There is severe damage to homes, businesses and infrastructure. The southern part of the island has suffered less devastation than the north.
• The National Airport in Abaco is underwater, the runway is flooded and the surrounding area is like a lake.
• In Marsh Harbour there is 60 percent damage to homes.
• The Mudd is completely destroyed.
• Treasure Cay airport runway is still functional – but the road to the airport is underwater.
• Cooper's Town has damage – but not as much as Marsh Harbour.
• A community with 30 people cut off from the main population were waving flags, sheets and shirts to get attention during the PM's flyover. He said a helicopter has been dispatched to rescue them.
• A Royal Navy vessel will be delivering food to Abaco tonight. Additional food will be provided by NEMA tomorrow.
• All those wishing to assist should contact NEMA.
• Bahamians wishing to donate food, money and clothes should contact the Bahamas Red Cross, NEMA or the Salvation Army.
• The US Coast Guard is assisting.
• The Defence Force and the Police Force including marine vessels will take food, water and supplies to Abaco and Grand Bahama.
• CARICOM countries have also pledged naval assets.
8.10pm UPDATE: FROM NEMA BAHAMAS: "As we continue to plan to help our brothers and sisters who were caught in this horrific hurricane, we ask for the assistance of anyone able and willing to donate anything they can for those in Grand Bahama and Abaco." Contact: (242) 323-5394 or (242) 341-0127, nemadonations@bahamas.gov.bs
7.10pm UPDATE: CNN interviewed a man in Freeport who described how his wife drowned during Hurricane Dorian.
6.20pm UPDATE: Prime Minister Dr Hubert Minnis and Leader of the Opposition Philip Davis speak on their return from Abaco.
4.30pm UPDATE: The Walt Disney Company to Donate More Than $1 Million to Relief and Recovery Efforts in The Bahamas: BURBANK, Calif., September 3, 2019 – The Walt Disney Company, led by Disney Cruise Line, has committed more than $1 million in cash and in-kind support to help relief and recovery efforts for those in The Bahamas affected by Hurricane Dorian.
"The Walt Disney Company stands with the people of The Bahamas affected by Hurricane Dorian," said Robert A. Iger, Chairman and Chief Executive Officer, The Walt Disney Company. "We hope our $1 million donation will provide much-needed relief and help our neighbors, colleagues, and all those impacted by this devastating storm begin the long process of recovery as they work to put their lives and communities back together."
Disney's commitment includes a $1 million donation to non-profit relief agencies who will be undertaking recovery and rebuilding efforts, as well as the provision of supplies – including food staples and basic construction materials – to those in impacted areas.
Additionally, Disney employees with immediate needs in impacted areas of The Bahamas will have access to a range of resources. Disney Castaway Cay, which experienced tropical force strength winds, employs more than 60 Bahamians from Abaco and Grand Bahama, as well as several employees from other Bahamian islands.
"The Bahamas is such a special place to us and our guests, and we have watched the devastation created by Hurricane Dorian with concern and heartache," Jeff Vahle, president of Disney Cruise Line, said. "We stand with the Bahamian people, and especially those in Abaco and Grand Bahama, as they recover from the worst storm to ever make landfall in The Bahamas. As the needs in these communities are assessed, we are prepared to aid the relief and recovery efforts through funding, the provision of supplies and by providing support to our Bahamian Crew Members."
Disney continues to monitor Hurricane Dorian and will coordinate on an ongoing basis with nonprofit organizations on emergency response efforts. This includes sharing lifesaving information with families before and during emergencies, prepositioning supplies at-the-ready to respond rapidly to natural disasters, and providing resources to activate large-scale responses as needed in the event of a disaster.
4.20pm UPDATE: Royal Caribbean International Makes Donation in Wake of Hurricane Dorian: "The Bahamas has always been more than a destination for Royal Caribbean and our guests. 
"For more than half a century, we've made many friends and many memories. The Bahamas is also home to more than 500 of our colleagues who work at Perfect Day at CocoCay and the Grand Bahama Shipyard. 
"So in the aftermath of Hurricane Dorian, the Bahamian people are in our thoughts and prayers. And we're rolling up our sleeves to help our friends, and inviting our guests to help. 
"Royal Caribbean is committing $1 million to Dorian disaster relief, and ITM—our partners in the Holistica joint venture that is developing the Grand Lucayan resort in Freeport—is also donating an additional $100,000. 
"To make sure our donations go where they can do the most good, we are collaborating with the Bahamian government and our non-profit partner, the Pan American Development Foundation, and a network of Bahamian charities and organizations, including the Bahamas Feeding Network.
"We are loading all kinds of goods onto our ships— generators, water, cleaning supplies, clean sheets, towels, and more—for direct delivery to the Bahamas. The trained employee volunteers we call the GO Team are on their way to assist with relief efforts. And we're taking special care of coworkers and their families who were affected by the storm. 
"Our donation includes matching every dollar of guest and employee donations to PADF so they can help our friends as well. 
"We can't make every bad memory of Dorian go away. But we can start making things better—today.   If you want to contribute please go to  https://www.padf.org/hurricane-dorian-royal and get started."
4.15pm UPDATE: The National Hurricane Center says the eyewall of Dorian continues to move away from Grand Bahama but dangerous winds and life-threatening storm surge will continue there through this evening.
4.10pm UPDATE: AML Pledges to Assist Hurricane Victims: The entire AML Foods Limited family is saddened by the reports of massive loss and destruction coming out of the northern Bahamas.

"Our thoughts and prayers are with our fellow Bahamians who have been impacted by this devastating storm. The days, weeks and months ahead will be difficult, but as a company, we are pledging our support to our colleagues and the communities of Grand Bahama and Abaco", said Renea Bastian, VP of Marketing & Communications.

"AML Foods, Solomon's and Cost Right are pillars in the Freeport community, and we have already begun putting in place recovery operations to help our colleagues and customers, who have suffered such major loss and damage over the past two days".
The company is currently diligently working to account for all of their 275 associates on Grand Bahama Island. "Once we receive the all clear from the relevant authorities, we will complete a full assessment of all of our locations in Freeport so that we can immediately begin servicing the community, and getting aid and supplies into the island", Bastian explained. The company has also reached out to their international vendors to determine what, if any assistance or aid they can provide. "We will make an announcement very soon of our donation pledge. We are a family and we will rebuild, we will recover and we will be stronger than ever", Bastian said.
3.50pm UPDATE: Queen Elizabeth has sent her condolences to the Bahamas: "Prince Philip and I have been shocked and saddened to learn of the devastation caused by Hurricane Dorian, and we send our sincere condolences to the families and friends of those who have lost their lives following this terrible storm," the statement from Buckingham Palace began.
"At this very difficult time, my thoughts and prayers are with those who have seen their homes and property destroyed, and I also send my gratitude to the emergency services and volunteers who are supporting the rescue and recovery effort."
3.05pm UPDATE: Prime Minister Dr Hubert Minnis has departed for a flyover of Abaco (see video left).
2.35pm UPDATE: A statement from BPL: "Bahamas Power and Light Company Ltd. (BPL) would like to assure customers in the areas of New Providence shown on the map above that we are working on your areas, but there are exigent circumstances affecting the efforts to return you to service. Firstly, New Providence suffered severe flooding due to Hurricane Dorian. In fact, customers from a number of areas called BPL on Monday morning at about 2AM to request to be taken offline due to concerns over shock conditions because the water level in their homes had risen to cover the electrical sockets. Having taken those areas offline, we are unable to return them to service until the homes have been inspected and deemed safe to receive electrical supply. It is possible that, if you are nearby one of the flooded areas, your supply may be tied to that area. Every attempt will be made in these instances to separate homes that are safe to re-energize from those that are not. This may not always be possible. Thank you and stay safe."
Statement from Carnival Corporation CEO Arnold Donald Regarding Hurricane Dorian Impact to The Bahamas: "On behalf of all of us at Carnival Corporation and our cruise line brands, let me begin by saying our thoughts and prayers go out to the great people of The Bahamas — our friends and partners for many years. It was very emotional seeing reports of Hurricane Dorian's impact over the past couple days. Our hearts go out to those who have lost friends and loved ones, and whose homes and businesses have been destroyed or damaged.
"Knowing and working over many years with so many Bahamians, we have long admired the strong spirit, determination and love of life they exhibit. We look forward to supporting their forthcoming hard work to rebuild, recover and again welcome tourists and cruise guests with open arms to their beautiful country.
"To our friends in The Bahamas, please know you will not be alone in your effort. All of us at Carnival Corporation pledge to work with you. We have been and remain in constant contact with government officials as they determine the highest priorities for both the short term and long term.
"In recent weeks, there have been questions about our commitment to two major projects on the islands of Grand Bahama and Half Moon Cay. We remain fully committed to those projects as part of the recovery and rebuilding process.
"We know this is a difficult time. But we have no doubt that the unyielding spirit of the Bahamian people will overcome, recover, rebuild and be stronger and more resilient than ever.
2.20pm UPDATE: The National Hurricane Center says Dorian's core is finally moving away from Grand Bahama. But the island will continue getting dangerous winds and life-threatening storm surge through the evening. Dorian's maximum sustained winds Tuesday afternoon remain at 110 mph (175 kph), making it a Category 2 hurricane. The hurricane is centred about 65 miles (105 kilometres) north of Freeport and is moving northwest near 5 mph (7 kph).
1.30pm UPDATE: Photos from a flight over Abaco today show the scale of the devastation.
1pm UPDATE: This video taken from a flight over Abaco shows the extent of the flooding.
12.30pm UPDATE: Bahamasair have cancelled all flights today due to adverse weather conditions until further notice.
• From BTC: "Please note that we are experiencing issues with mobile voice services. Our teams are working to restore the service as soon as possible. Mobile data services are operational in all areas except Abaco and Grand Bahama, Bimini and Berry Islands."
• Minister of State for Grand Bahama Kwasi Thompson said Agriculture Minister Michael Pintard has been rescued from his home.
12.20pm UPDATE: From Dr Lynwood Brown: "It is humbling and indeed heartwarming to see how many persons who answer the call to volunteer of themselves to assist others. Since I sent out the WhatsApp message about medical personnel to help the hurricane ravaged victims I have fielded more than 100 messages and calls from those willing to help. These calls came in from Texas, North Carolina, Florida and all over the Bahamas and Caribbean.

"We will be having a meeting TODAY AT 4PM AT FUSION SUPERPLEX all those who volunteer please come out and register and bring a government issue ID and indicate the level of participation that you intend to assist it. Please note that there would be a waiver form created that would exclude you from any legal action resulting from your participation. Once again I thank you for your unselfish act and may GOD BLESS YOU AND BLESS THE COMMONWEALTH OF THE BAHAMAS"
*SEE YOU AT 4PM FUSION SUPERPLEX
11.25am UPDATE: The Nassau Airport Development Company Ltd. wishes to advise the public that the Lynden Pindling International Airport (LPIA) is open for operations today Tuesday, September 3, 2019. There have been significant flight cancellations and as such the traveling public is asked to contact their respective airlines for flight updates. A listing of all airlines and their contacts can be found on LPIA's website. Persons are asked to visit LPIA's website at www.nassaulpia.com and social media channels for the latest information on airport operations.
11.15am UPDATE: Details of Bahamian government agencies in the US where you can send help (left).
10.45am UPDATE: Minister of National Security Marvin Dames confirmed that a few of the deaths during Hurricane Dorian were children but couldn't give any other details. He expressed concern and expectation that the number of fatalities will increase.
Health Minister Dr Duane Sands said the 21 people brought into Princess Margaret Hospital from Abaco have wide ranging injuries from partial amputation, broken limbs to needing brain surgery. He said of the people who were left behind, conditions are worsening – especially the ones needing dialysis. In addition, the Rand Hospital in Grand Bahama is unable to give any medical treatment after flooding.
10am UPDATE: US Senator Marco Rubio has said the US is ready to help the Bahamas, tweeting: "Speaking to @uscoastguard over the last day about the #Bahamas. U.S. is ready to deploy behind #HurricaneDorian to provide aid & assitance to our neighbors on the islands. "Forward, Upward, Onward, Together"#BahamasStrong"
From today's print edition:
• US Coast Guard airlifting injured out of Abaco
• Dorian hits Grand Bahama – 'We are truly In dire straits'
9.35am UPDATE: This video from Instagram shows complete devastation in Abaco.
9.15am UPDATE: The latest from the National Hurricane Center on Hurricane Dorian – 
• Dangerous winds and life-threatening storm surge on Grand Bahama.
• Wind gusts of up to 140mph.
• Storm surge 10 to 15 feet above normal tide levels with higher destructive waves.
• Extreme flooding from up to 30 inches of rain.
• These hazards will continue throughout Grand Bahama for much of today.